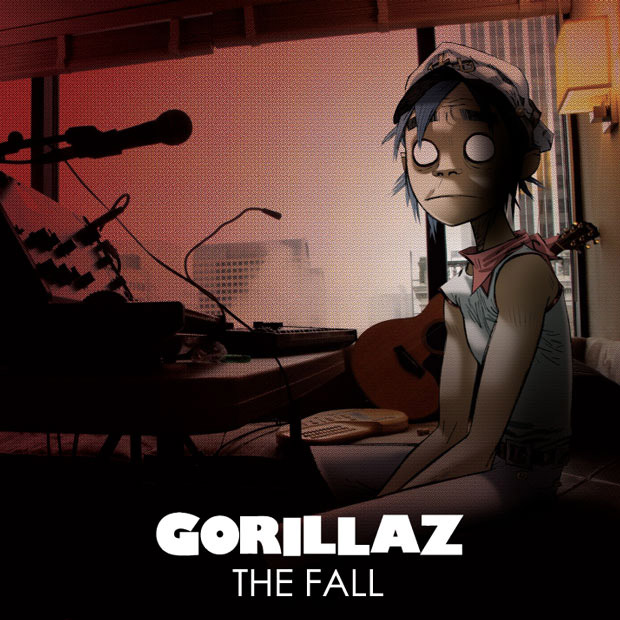 MP3's: Gorillaz – The Fall by revolutioncontemporaine
Hit the jump for the full credits and a download link.



TRACKLISTING:
01. PHONER TO ARIZONA
Recorded in Montreal on 3rd October
02. REVOLVING DOORS
Recorded in Boston on 5th October
03. HILLBILLY MAN
Recorded in New Jersey and Virginia on 10th and 11th October
Additional Guitar: Mick Jones
04. DETROIT
Recorded in Detroit on 13th October
05. SHY-TOWN
Recorded in Chicago on 15th October
06. LITTLE PINK PLASTIC BAGS
Recorded in Chicago on 16th October
Additional Keyboards: Jesse Hackett
07. THE JOPLIN SPIDER
Recorded in Joplin on 18th October
Additional conversations with: Darren 'Smoggy' Evans
08. THE PARISH OF SPACE DUST
Recorded in Houston on 19th October
09. THE SNAKE IN DALLAS
Recorded in Dallas on 20th October
10. AMARILLO
Recorded in Amarillo on 23rd October
11. THE SPEAK IT MOUNTAINS
Recorded in Denver on 24th October
Stream and forest recorded in Santa Fe on 25th October by Mike Smith
12. ASPEN FOREST
Recorded in Santa Fe on 25th October and in Vancouver on 3rd November
Additional Bass: Paul Simonon
Additional Qanun: James R Grippo
13. BOBBY IN PHOENIX
Recorded in Phoenix on 26th October
Vocals and Guitar: Bobby Womack
14. CALIFORNIA AND THE SLIPPING OF THE SUN
Recorded in Oakland on 30th October
Train station announcement recorded at LA Train Station. Additional # conversation with: Darren 'Smoggy' Evans, Mick Jones, Jamie Hewlett and Tanyel Vahdettin.
15. SEATTLE YODEL
Recorded in Seattle on 2nd November
Featuring the Archie McPhee Yodelling Pickle. Copyright 2008 Archie McPhee and Company www.mcphee.com/shop/products/Yodelling-Pickle.html
iPad Applications Used: Speak It! / SoundyThingie / Mugician / Solo Synth / Synth / Funk Box / Gliss / AmpliTube / Xenon / iElectribe / BS-16i / M3000 HD / Cleartune / iOrgel HD / Olsynth / StudioMiniXI / BassLine / Harmonizer / Dub Siren Pro / Moog Filatron
Produced by Gorillaz and Stephen Sedgwick. Recorded by Stephen Sedgwick and Gorillaz, except track 11 with additional recording by Mike Smith. Mixed by Stephen Sedgwick at Studio 13. Mastered by Geoff Pesche at Abbey Road Studios. Published by Chrysalis Music Ltd / Copyright Control. Except track 8 published by Chrysalis Music Ltd/Copyright Control/Patrick Stuart Music(BMI) Adm. Sussman & Associates/Sony/ATV Music Publishing/Lyrical Mile Music (BMI)/Canopy Music Inc., Adm. Universal Music Publishing Ltd/Keith Prowse Music Publishing o/b/o EMI Miller Catalog Inc. Track 8 Contains elements of: Country Legends 97.1FM Houston Texas with Dan Gallo and Chuck Akers. Cowboy Town by Brooks and Dunn. Written by Boon/Nelson/Dunn. Published by Patrick Stuart Music (BMI) Adm by Sussman & Associates/Sony/ATV Music Publishing/Lyrical Mile Music (BMI). Used by permission. All rights reserved. Witchita Lineman by Glen Campbell Written by J. Webb. Published by Canopy Music Inc., Adm. Universal Music Publishing Ltd. Used by permission. All rights reserved. Hawaiian War Chant (Ta-Hu-Wa-Hu-Wai) by Spike Jones Written by Freed/Noble. Published by EMI Miller Catalog. Used by permission. All rights reserved.
Artwork and Design by J.C. Hewlett and Zombie Flesh Eaters. Additional photography by: Jamie Hewlett, Seb Monk, Mike Smith, Oswald Lee Henderson. Phoner to Arizona video: Directed by Jamie Hewlett; Co-directed and Edited by Seb Monk; Additional photography supplied by Mike Smith and Oswald Lee Henderson.
(P) 2010 The copyright in this sound recording is owned by EMI Records Ltd. (C) 2010 Gorillaz Partnership under exclusive license to EMI Records Ltd. All rights of the producer and the owner of the recorded work reserved. It may not be sold, transferred, altered or copied (including burning and uploading to the internet) without the express prior written approval of EMI Records Ltd.