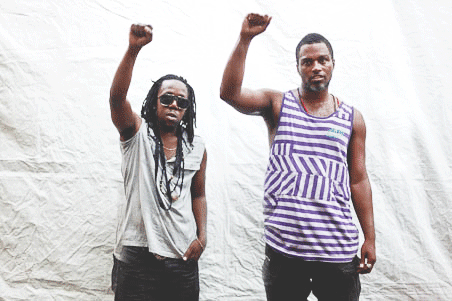 10. Blood Orange – Coastal Grooves
This is a self-produced album by the multi-talented/instrumentalist Dev Hynes (formerly of Test Icicles and Lightspeed Champion) with a seedy nostalgic, 80s downtown New York feel. A conceptual piece, that moves at a very slow and steady pace but is very atmospheric, if you give it a fair chance there is a lot to like about this. The bass is really the thing to watch out for on this album, it's a really dark centerpiece that works so well.
*Notable Tracks: Sutphin Boulevard, Can We Go Inside Now.
9. Gil-Scott Heron/Jamie xx – We're New Here
A remix project that doused a lot of light on Heron's rather bleak narratives; the original album, 'I'm New Here' was not something I actually got through. Although Jamie xx functions as the MPC wiz in British Goth R&B band, The xx, here he offers a freer expression and alternate reality to his intricate compositions and of course paired with the brilliance of Gil-Scott Heron, this certainly makes for a great listen on a bus ride or actually in the club, which I feel is an additional charm when you think about Heron.
*Notable Tracks: Ur Soul and Mine, I'll Take Care of You.
8. The Weeknd – House of Balloons
The Weeknd – House Of Balloons by The_Weeknd
For sure this is a no-brainer for most people that this would appear on an end of year list. But to be honest I was beside myself on this one because I didn't love everything that was featured here, but then my objective side came into play and I realized that sometimes we are very comfortable and when we're introduced to new sounds with no reference or context it isn't always easy to digest. With all that said, this is a very precise piece of work that ironically to mostly everyone outside of Toronto is shrouded in mystery. There are some great samples used from Beach House and Siouxsie and the Banshees and all around really engaging songs that make you feel like the best way to hear the music at a party is through the bathroom wall… where perhaps another party is happening. I don't think I need to say much more than that because if you haven't heard this you probably don't have the Internet.
*Notable Tracks: What You Need, Party/After Party, Coming Down.
7. A$AP Rocky – LiveLoveA$AP
I will openly admit that when I first heard this, I didn't give it much of a chance but at the encouragement of a few friends I threw it on the iPod and walked with it. So I suppose it goes without saying that it really grew on me and indulged my raw-er sensibilities quite a bit. A$AP is the crew, Rocky is the star on this 'mixtape', but there are other members who shine here and I'm sure have their own projects ready for deployment with all the Houston swag that makes this project really deliver. A$AP as an emcee has a great flow and is concerned with what you would think a young dude would be concerned with.
*Notable Tracks: Peso, Trilla, Brand New Guys.
6. Van Hunt – What Were You Hoping For?
From its strange cover photo to its adventurous music, this is an evolution for an artist that it wouldn't hurt if you got to know them. Having started as an R&B artist, not to mention having Randy Jackson as his manager (YEAH, THAT RANDY!) it is a wonder why a lot of people aren't familiar with Van Hunt… their loss I suppose. If you listen to his work in succession, the material found on this album makes perfect sense, it takes the kind of maverick twists and turns found in Prince's career, that also means it is incomparable to anything I've heard. Sliding from punk to country to funk, to songs about ass and cross dressing, it may be safe to say there is something here for everyone… even if your indulgences aren't as out there as Van Hunt expresses his.
*Notable Tracks: Watching You Go Crazy Is Driving Me Insane, Falls (Violet), Eyes Like Pearls.
Hit the jump for Brendan's #5-1 picks….

5. THEESatisfaction – Transitions
THEES two Seattle based ladies are sheer brilliance, and although I know and like them as people, the relationship I have with their art is a big difference. Cat and Stas are a singer/emcee duo, but those titles apply to both of them so you know that this smooth, self-produced piece comes from real feelings in the most honest fashion. Transitions feels like an autumn piece, even the tone of their skin on the cover art reflects the feeling of changes that happen in (human) nature. A lot of music does not capture the grace that is found here, and that is what probably led them to being one of the first "hip-hop" acts to be signed to Sub Pop Records, a label clearly departing from its traditional Grunge releases for the sake of exposing the world to the other things burgeoning in Seattle's culture.
*Notable Tracks: Foliage, EEN SAH EWE, I Nigress.
4. Thundercat – The Golden Age of Apocalypse
Hands down I am sucker for most music that comes out of the West coast, but the bigger thing I admire about artists from this region is their ability to say "F*** IT!" with such honest audacity and their freak flag flying high. Thundercat is a bass virtuoso, who plays in punk band, Suicidal Tendencies, but also plays in Erykah Badu's live band…go figure. He came to my attention playing on Shafiq Husayn's solo debut, "En A-free Ka", then later on FlyLo's Cosmogramma and now this album, a journey into 60s styled psychedelic jazz fusion that could really run alongside Herbie Hancock's Head Hunters, it is just lush and damn funky! Additionally, I am charmed by how it only has one song passed the 5-minute mark, so it doesn't get as long winded as Jazz may get at times. With a fine balance between instrumental and lyrical songs, it's a strong debut… but based on his past work I'm not too surprised.
*Notable Tracks: Is It Love?, Boat Cruise, Walkin'.
3. Frank Ocean – Nostalgia, Ultra
For some reason, I was really excited when the Odd Future tumblr announced that there would be an R&B release. I guess I couldn't imagine who or what the personality of this singer would be. I was pleasantly surprised once I did hear what is Nostalgia, Ultra, with its brilliant writing and off beat dark wit, this is hands down one of the best things I've heard even with its combination of original and cover material. It is really awesome to hear the vulnerability at the core of the writing because how he says what he is thinking or feeling sounds free and fearless, something that just as people we should strive for. Apparently this project will see an 'official' release, but it will be a condensed version due to sample clearances. Funny how labels want to get involved when you have figured your art out already.
*Notable Tracks: Novacane, Lovecrimes, American Wedding.
2. James Blake – James Blake
This is an album out of left field: heavy on the bass, really sparse yet warm noise and textures and minimal in song structure. England always seems to have these odd contributions to the musical palette, but by no means is that a complaint because this is hands down one of the most interesting artists I have ever heard in my life. James Blake came to my attention with his cover of Feist's, "Limit To Your Love" (the original was a favourite already) and that was it for me! I feel like the biggest treat with this album though is when you play it on a good system; its phenomenal on an iPod but when you get it on your record player and 5 speakers: no words! I will have to give the disclaimer that it is quite a somber affair, but the style that it's done in is just so interesting, some of the songs actually sound like spirituals with huge synth build-ups that scramble the brain.
*Notable Tracks: The Wilhelm Scream, To Care Like You, Measurements.
1. Shabazz Palaces – Black Up

For my first blog post on this site, I reviewed this album and exposed my overall obsession for this project; and although I may be able to just have a referral link for that post I just want to talk about it some more (I won't say too much more though)! The major statement that I have to make is this: If you are a beatmaker, and if you emcee, this is the bar BUT I say this in a way to communicate the fact that THIS album is what happens when you are YOU! As long as you follow trends and all that other mess, you will stay lost in the shuffle and wonder why nobody cares to highlight your creations. When I heard James Blake, I wasn't sure what was going to impress me from there, good thing I stayed open minded. This was as good as it got for 2011, but that's just me.
*Notable Tracks: ALL OF THEM.

Previously on The Kitchen:
- Part 1: The Best Of The Kitchen 2011 – Albums: 30-21
- Part 2: The Best Of The Kitchen 2011 – Albums: 20-11