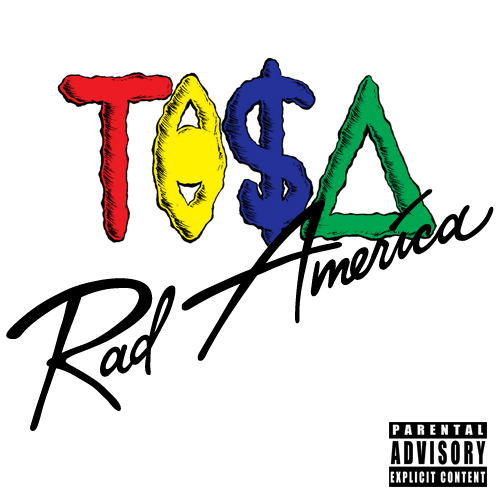 Before Taz Arnold aka TI$A ever brought his branded snapbacks to all the cool kids, I knew him as a musician, albeit one of a very eccentric caliber with his brethren in SA-RA.
He and his creative partners not only make some of the rawest, dirtiest funk out of LA and NY respectively, they also come armed with philosophies and spiritual messages that aren't always reflected in their music per se, but show that these guys are educated and would like to affect people in a number of different ways.
Taz was always the wilder one in SA-RA, from his appearance to his solo work. He's made songs that range from endorsing Barack Obama to freaked out jazz-funk street music ("$outhSide Blood Cuz'n") not to mention an array of interesting visuals you can find on YouTube that really allow you to experience this personality and his philosophy although in the end his enigmatic persona doesn't get any clearer.
In 2012, he's already released two projects, a 2-song EP titled, Louboutin $yndrome employing a style I can best describe as sound collaging. There's a somewhat chaotic approach to the production reminiscent of the 90′s production crew, The Bomb Squad. Continuing with this heavy sample, collage style, we're now introduced to the second project, the Rad America LP, a fast-paced project that works like the musical version of what a lot of news channels look like nowadays with multiple things happening simultaneously. The perfect music for the tabbed browser information consumption era we live in now.
I first came across Rad America from my email subscription to tisavision.tv but went searching for a download link which I found along with many slanderous and dismissive comments. By no means will I scale this LP between good or bad because I recognize that it's valuable in the indie music lexicon and the Internet age. I don't have a whole lot to say in terms of what songs you should listen to or whatever from the album because that's not what Rad America is about. It's about offering people an experience, and if you make it through to the end of that experience, it's clear what his mandate, 'We Run This Art S#!T' is all about.
Themes run the gamut here, from talking about freaky girls and shouting out GOD, to mentioning the gold under the rocks in San Fran as well as introducing an extension of his 'branding' with the ti$A te$lA gAng. There is a lot to digest here, and I am interested in exploring what else I discover with repeated listens to the album. Take the challenge for yourself though and see what you get out of your journey through Rad America!
– Brendan Philip


Download: tAz Arnold – rAd americA HERE
Check tAz Arnold out online: Website | Twitter (@tAzArnold) | Tumblr
Hit the jump to watch the ti$A Mission statement: