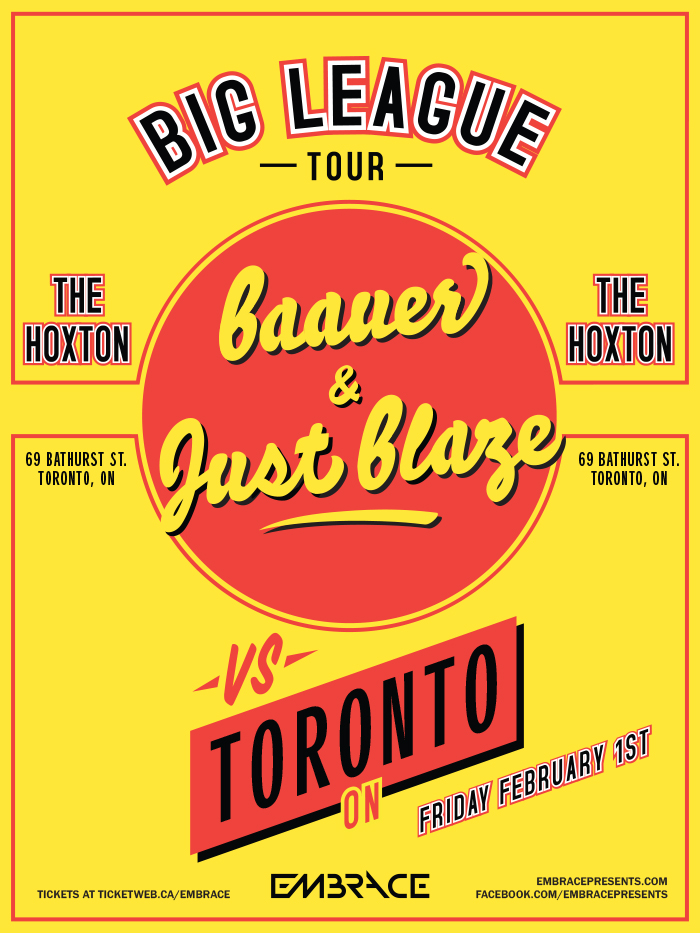 [NOTE: CONTEST IS NOW CLOSED! Congrats to our winners Pedro and Lester. More ticket giveaway contests coming soon, especially if you live in Toronto and are a fan of these guys!]
We just finished giving away tickets for the Freddie Gibbs show tonight at Santos Party House in NYC and now we're doing it all over again for our peoples in Toronto!
You already know what this is! Or maybe you don't. This is gonna be EPIC! Just Blaze, hip-hop production god & avowed club music head teams up with EDM and trap producer du jour, Baauer for the Big League tour that's got a lot of tongues waggin' (well, at least mine is!)
As always, this is a twitter-based contest. We will be giving away two pairs of tickets and all you have to do is follow me on twitter (so I can DM you in the event that you win, not 'cos I'm trying to juice my twitter numbers although I do happen to think I tweet some follow-worthy sh-t too!) and tweet:
"@Stellaskid: I wanna win tickets to see @JustBlaze & @Baauer Friday Feb. 1 at @The_Hoxton, presented by @EmbracePresents" [note: the quotation marks not necessary when you actually send your tweet]
Contest will run until 6PM EST, tomorrow (Jan. 31) and the winner will be announced via twitter. Thanks to Embrace for supplying the tickets for this contest.
Don't wanna miss your chance to be there for this? You can BUY TICKETS at Ticketweb, Rotate This & Soundscapes. Click below to get a little taste of what you'll be hearing…