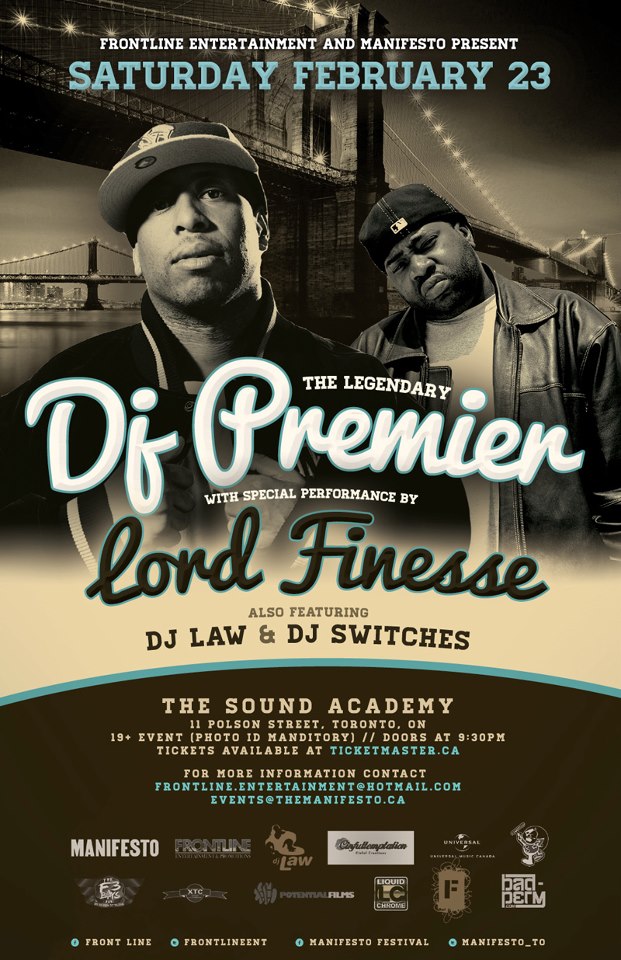 [NOTE: contest is now CLOSED. The winner will be announced via twitter soon. Thanks to all who entered, check back soon for more contests….]
In recent weeks, we've hooked up Kitchen readers (and twitter subscribers) with tickets to Baauer x Just Blaze, RatKing and in NY, Freddie Gibbs. And now once again we keep it poppin' in the T.dot with a ticket giveaway for the Feb. 23 appearance at Sound Academy by two NYC rap legends, DJ Premier & Lord Finesse. Here's the details:
Just follow me on twitter (so I can DM you in the event that you win) and then tweet: "@Stellaskid: I wanna win tickets to see @RealDJPremier & @LordFinesseDITC Feb 23 at @SoundAcademy in Toronto co-presented by @Manifesto_TO" [note: the quotation marks not necessary when you send your tweet]
The contest will end at 12 noon EST on Feb. 22 and the winner will be announced via twitter. Thanks to Manifesto and Frontline Entertainment for supplying the tickets for this contest. Tickets are on sale for $25 at Ticketmaster. Finesse might could be doing track from this new project coming out on Splice of Life records, Funky Man: The Prequel:

This post is pinned to the top of the site. Scroll down for new content.