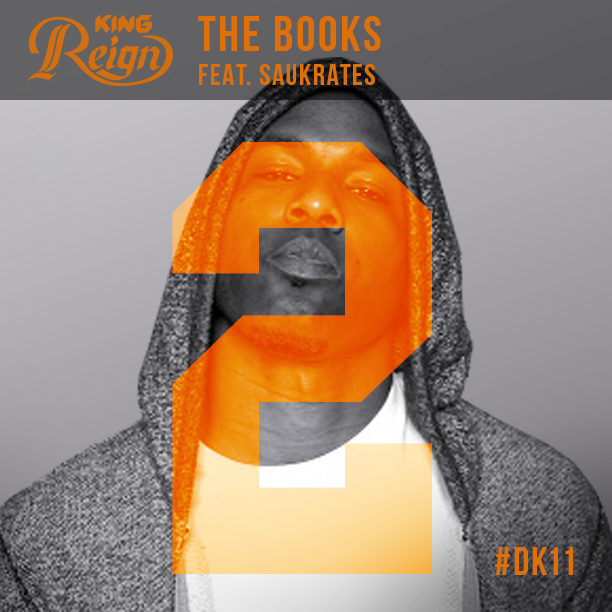 King Reign is one of my favorite artists in my hometown, Toronto that is full of great artists. I was honored when I asked him for a track for the THIS ONE GOES TO ELEVEN… compilation that he and his manager, Click did not even hesitate to say, yes immediately and laced me with "The Books", a rare banger of a track with a serious afro-blaxploitation feel that had seen only limited release before. The track was so dope I had to make it one of the pre–release singles and it's gotten great reaction from hip hop and non-hip-hop heads alike so far.
I've seen Reign around the scene for years now but I've never really had a chance to sit & build with him in any deep way despite us having many friends in common so it was great to hear him speak on his career to date and his music in an interview I conducted in support of the #DK11 album project. Check it out right here:

DK: Reign, you're well respected in the Toronto scene but still considered as a bit of a dark horse. Is that a deliberate strategy on your part?
Reign: No, I don't think I can take a lot of credit for that. I can say that dark horse references usually comes when someone is not thinking about doing something that's been done. It has been my experience that no matter how good a piece of art is if people can't reference it with something else, they'll lose interest quickly. In this saturated market I feel like I just need to be consistent with the music I put out and as fun as it is being the "dark horse", I'm sure that will change. My job now is to make my art or style one of the staples that people are used to out here. Wish me luck!
DK: People will tell you how I say all the time that "Guilty Party" is one of my favorite hip-hop tracks of all time. Interestingly it's a cut featuring Saukrates as is "The Books," the track you gave me for the comp. Can you talk about the process and inspiration behind the making of "Guilty Party"

Reign: I had the lyrics written and I was in a search for a new sound at the time. Mark Hines, the producer, and I came up with about five beats that sounded like the beat I ended up using for Guilty. We were looking to make that my sound and in hindsight I should have tried harder to stick to it. There's still a chance that I could revisit an updated version of that later on in my career over a whole album.
The spirit of hip-hop inspired these lyrics because as heads we've always been unapologetic about what we say in our raps. So, I'm challenging others in hip-hop through this song to be that honest about themselves in their raps.
DK: What it's like working with Soxx as an ongoing collaborative creative partner?

Reign: The songs come pretty easy when we work. We share a lot of the same influences and we have similar approaches to making music. Guilty was a song that I recorded on Soxx's 1680 before I got my own. He was in the back whispering some lyrics as I was recording it and I was like "I know you got something for this," and that's what you hear. We both give each other freedoms we wouldn't give working with other artists. It's a luxury to work with someone you can trust creatively. We know even if one of us comes up with an idea that wasn't what we were thinking, it's worth it to see the idea out. So far, we've never had to double back.
DK: What would you say is the creative difference between "Guilty Party" and "The Books"?

Reign: If I was to place the lyrics in "Guilty Party" into a setting it would be in a confessional, except I'm not really apologizing. It's a double meaning as in I'm the guilty party and I'm also throwing a guilty party celebrating the fact that I'm OK with being human and taking that weight off my shoulders. I'm saying I'm guilty of all these things but "meanwhile I'm guilty of breathing." In other words I'm guilty of being human and I'm sure you all are too. It's about accepting the fact that we are all works in progress. As a matter of fact, the title I originally had for my first album was Work In Progress. "The Books" is me doing some accounting, standing back and planning out my future by assessing where I'm at and my game plan for the future. The song itself is about balance and reasoning. I use situations I was dealing with at the time. The type of drama that comes from having one foot in home training and the other in the streets, wanting to be in love but not wanting to be committed etc. After I recorded the verses at E3's studio I played it for Soxx and he jumped on it immediately. He came up with that hook on the fly. I'm happy we got to put that out with you all.
DK: Us too! "The Books" is actually an older track that saw a very limited release a while back. It's an amazing track, can you talk about the song and why you never really put it out in a bigger way before now?

Reign: I was planning on putting that on my first album too. I released it on a mix tape way back called The Fresh Water Show as sort of a soft release with plans to re-release it. I've always got great feedback about that joint. Like a lot of us, old songs sound old to us after we make them but this joint refreshes itself with every new listener.
DK: You just released your latest album, Sincere which is great and already generating some buzz as a possible Polaris Prize contender. You preceded it with the Reign Music Volume 2 promo EP. To me the EP seemed even more pop/alternative leaning in its sound than the album which is the opposite of what many artists might have chosen to do strategy-wise. Can you talk about what you see as the difference between the two releases and why each one sounds the way they do?

Reign: Thank you for putting that thought out there. I haven't thought as far ahead as the Polaris Prize. With songs like "Grey", "The Future" or "The Audacity Of Hope (remix)" I can see why you would get that pop/alternative feel. These are joints that represent a sound I've always had from the beginning of my career and that I've always planned to make a whole album of. Reign Music Volume 2 was a taste of that. The songs on the EP were made at different times over the years but they all represented that sound so I put them together on Volume 2. Starting out in a jazz musician's studio you get a taste for a clean sound and adding live instruments.

Sincere is more influenced by R&B. Songs like the title track, "Sincere" and "Already Over" are dead giveaways. This was deliberate and was recorded all at once in a short period of time. When I started Sincere it was me just recording some joints in a new studio my man put me onto. As I started recording I liked the way it was feeling so I just naturally went with the flow. The fact that I could uses pieces of all my influences in one genre of music, is what kept my love for hip hop music alive.
Haven't heard "The Books" yet? Check it out now:


Song Credits:
Written by K.Thomas, E.Hall III, K. Wailoo
Produced by E3
Cover Art Design by TiffanyPilgrim for TiffanyPilgrim Art & Design
Audio mastering by Neil McDonald & Paul Kehayas for Echosound Studiolab
Follow King Reign online: Website | Facebook | Twitter | Instagram
Haven't checked out the album yet? CLICK HERE then hit the jump to check out the "Guilty Party" video and audio and Reign's latest album, Sincere.


"Guilty Party":



Sincere: