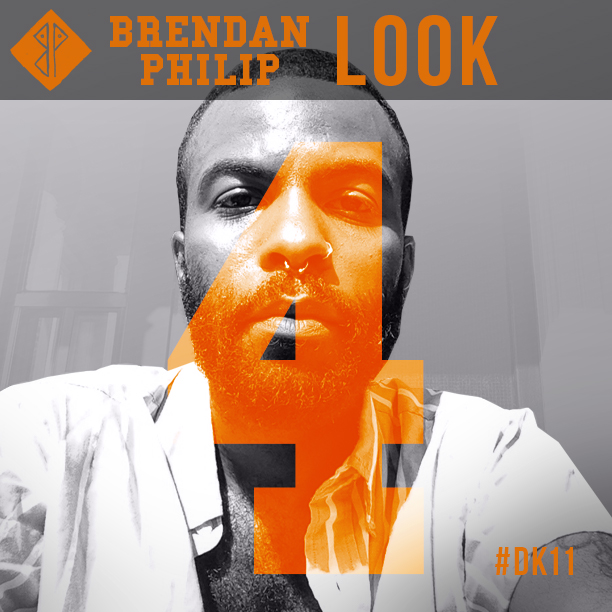 I used to call Toronto-based 'slop-wave', alternative soul singer, Brendan Philip one of Toronto's best kept secrets. But it doesn't like I'll be able to do that for much longer.
Brendan was part of the T.dot, Black boho 88 Days crew in the past but now rolls with the Fake Art collective. He's being laying the musical seeds for a growing body of work that gets progressively better and increasingly creative while still remaining accessible and winning over more and more fans along the way. Last year he was the winner in the Toronto Harbourfront Soundclash, he has curated a mix for VICE's Noisey music channel, been picked as an artist to watch by MTV and was part of the inaugural House of Vans Vice Island concert during NXNE this past June. Son is blowing up, for real!
Luckily for me I knew him before he became Toronto's next hottest thing so when I asked to bless the #DK11 project with something, he was only too happy to oblige and delivered a smoker of a track called "Look" produced by fellow, #DK11 representer, Keita Juma (more on him next week). Once I had recovered from taking in the neutron bomb that was "Look", I had to ask the homie, Brendan a few questions:
DK: It's funny, we are connected through mutual friends but I actually first got up on you well before that after seeing the "You Just Have Me" video on Cityonmyback.com and promptly posting it on DK too (and putting a screenshot of it in the cover art for the #DK11 album). That was four years ago. What are your thoughts on that song and the music you were making at the time looking back now?

Brendan: I still have an affinity for that song! and everything from that time. I was just being adventurous and using my intuition to navigate how to use my voice and the things I wanted to say. At that point I had been listening to a lot of Sa-Ra Creative Partners (a production trio from NYC/LA. Principle writer is Om'mas Keith who produces Frank Ocean) and I just wanted to honour the black visionaries and purveyors of (for lack of a better term) futuristic music.

DK: That video was shot in Prospect Park in Brooklyn, NY. You have long running ties to BK. Can you get into what they are and what they mean to you?
Brendan: I started going out there with my brother/music partner, Jahmal while he was part of his band, The Carps. Later, I started going to see a young lady I was going steady with at the time. We would visit my other homey, Richenzo, who is the person who shot the "You Just Have Me" video. It's funny now that I think about it, most of my videos were shot in Brooklyn. I spent some time writing out there a few years ago as well, just being a microscopic fish in an ocean. NY is cool, but I'm keeping it in Toronto for now. It's home!
DK: Your music tends to the more underground/alternative side of things soulful but i also hear Prince influence in there too. In the last couple years there's been an explosion in sounds out of that general space getting attention in the 'mainstream': from The Weeknd, SZA and Frank Ocean to Blood Orange, Jesse Boykins III, FKA Twigs, Solange & her Saint Records label and even The xx and James Blake. What's your feelings on that movement? Do you feel like you fit into that lane and is it good for what you're doing or no?
Brendan: To some extent I definitely see myself running the same marathon as the groups you mentioned. Most of them are contributing proto ideas or innovating what R&B and Soul is sonically. Twigs is an exception out of this group, because she has fully conceptualized a bizarre, beautiful character that has this virgin-like aesthetic but really hyper-sexual at the same time. I guess I relate to her the most out of the bunch in that way; I have an ever expanding inner-space that is about an ever-present and expanding black experience.
DK: Toronto seems to be a hot bed of this sound even before the Weekend blew up with artists like Shi Wisdom, Allie and others like Ivanunknown and even Rochelle Jordan. What is it about Toronto that seems to breed this sound from your pov?
Brendan: I feel like a lot of it has to do with the climate. Weather is just this thing that takes up a place in how you feel and how you express yourself as well. But another thing we're known for is how chill we are here. I mean a lot of it is just passive aggressive behaviour but we like very chill things, the culture likes to leave time for space and introspection. In my mind that falls into how we sonically express ourselves too: tons of room for thought and feeling, reflection. That may not be the active conscious thought while creating but more of a subconscious intrinsic sorta thing.
DK: I asked KJ to speak on it this too in my interview with him: you guys are frequent collaborators and he produced "Look", the track you contributed to the THIS ONE GOES TO ELEVEN… album project so can you talk about the process of creating the song with him?
Brendan: Keita Juma is a fucking sage and he always has been. Obi Wan Juma! We've been working together since we started working on music. Whenever we get the chance we have long builds and just go through it. We always have music playing, it doesn't really ever stop. One time he was playing some beats he'd put together and that one just caught my attention particularly because it seemed like a good opportunity to take something strange but that had an apparent groove and make an after dark kinda vibe. Truth is I just think everything is strange, myself included, so making a song that's about admiring and wanting someone or their body to strange sounds makes sense to me.
DK: Ha, OK! This question is really for me but also for everyone else who's already a fan of yours but has a hard time keeping up with all the creative iterations you record under: can you talk about what the differences are between your solo material, C R O W N S, sAvidA and Purple HeArts and how do you decide what project name a new song you write goes under or is right for?
Brendan: The different iterations are mostly defined by who I am working with and what frontier we're embarking on. In truth the words are always from that zen voice most of us were born with, spoken or sung through Brendan; what happens is the sonic environment changes so I have to translate these ideas to fit cohesively with the sound.
Each project is a like a planet in the solar system, so one project is just the music of Earth, another is what they fuck with on Venus, C R O VV N S is Martian gospel music. If I come up with a melody walking down the street, its really about the word choices that help to make it clear what project or planet it belongs to. If I'm building a loop or putting together sounds it may be sAvidA when working with Jahmal and Keita, it will be Brendan Philip. I am just at a certain place with understanding how my immediate world works and how I function in it, that there is no challenge in deciding how to present these ideas.
DK: Last question: you describe your music as 'slop wave.' How did you come up with that term and what does it mean? I'm guessing it's kind of inspired by P-Funk's Cosmic Slop?
Brendan: Slopwave isn't really anything but what it can indicate is the kind of musical experience you're embarking on. But most importantly yes, its a nod to one of the greatest influences in funk: George Clinton. Funkadelic has an album called, Cosmic Slop and next to another album of theirs, Maggot Brain those are definitely some of my favourite things to listen to. These dudes just listened to themselves and each other and made stellar magic; so in that anti-tradition they practiced and mastered, I follow.
Haven't heard Brendan's track, "Look" from the THIS ONE GOES TO ELEVEN… album yet? Check it out right here:
Song credits:
Written by Brendan Thomas; Keita Juma
Produced by Keita Juma
Audio mastering by by Neil McDonald & Paul Kehayas of Echosound Studiolab
Art by Tiffany Pilgrim for Tiffany Pilgrim Art Direction & Graphic Design
Follow Brendan Philip Online: Website | Facebook | Twitter | Instagram
Haven't checked out the THIS ONE GOES TO ELEVEN… album yet??! Right this way, please….