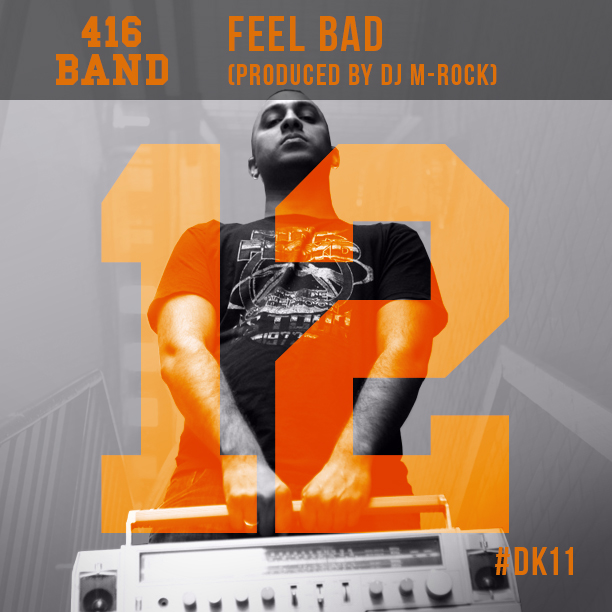 "Feel Bad" is track #12 from the THIS ONE GOES TO ELEVEN… album recorded by Toronto's 416 Band, a new project produced by 2013 Red Bull Thre3style Toronto champion and remix/production wiz, DJ M-Rock. M-Rock was gracious enough to answer a few questions about "Feel Bad" and his remix, production and DJ work last week. Check it out below:
DK: The first time I ever heard you DJ was actually on the radio on the legendary but now defunct Sat. 1-4pm CKLN hip-hop show shortly after I'd moved back to Toronto from living in NY. I've heard and seen a lot of great battle Djs and turntablists but, as I recall it, you were doing some things on that show that melted my mind and I swear I'd never heard DJs do before in terms of scratches and cuts. Do you remember that day and what you were doing?

M-Rock: I remember that day, it was Halloween weekend, and my friend Dan who ran that show asked me to do a set. I showed up in an afro wig (ed note: !) and just improv'd a boom bap set. I was just doing a few of my tablist things that DJs have forgotten to do, digital juggling, doubles, blends, what not. I wonder if being a mixing DJ who can scratch will ever be cool again. It was real badass to know how to scratch and mix when I was a kid
DK: After that I started getting your mixtapes and then after that your remixes. The quality of the music was matched only by presentation they were given, in terms of the art and the press blurbs you'd send with them. Not everyone really does that any more, you get an @ tweet with a bit.ly link saying, "Play my sh-t!" if you're lucky, lol. How important is it to you to take that time to present your music properly?

M-Rock: It's not as important as the music is, but it's just me to talk about the music after it's made. I'm doing less of that now, because I work with Adam Feeney (artist who's sampled in Drake's 'Zero to 100'), and I see how much he's done with minimal online marketing/writing. That's also definitely my school/family background, in terms of caring about those fine details in terms of presenting something. I also had experience from creating my old DJ crew's website funkyteknicianz.com, which taught me about making things look decent, clean, and professional yet still intimately written.
DK: Out of all the remixes you've done, which is your favorite and why?

M-Rock: Thanks to your blog, and Mark Ronson, and CNN's Bloomberg TV show, I'd say I'm happiest with my 'Get Lucky' remix. I can't really remember the fun it was in creating the strings I used, those moments are pretty fast paced. I'm just happy with how people have received it. It literally took me from a dead soundcloud page to a ton of listens.
DK: You ended up working with Mark Ronson on his 'Authentic Sh-t' radio show. Did that come through the Daft Punk remix?

M-Rock: Yeah. He was looking for a "Get Lucky" edit, he found the one you had posted which ended up on Hypemachine. He tweeted out that Djs should probably be playing my version, and he started playing more of my stuff, and eventually reached out to see if I wanted to do a guest set, which led me to do his shows more and more. His new album is gonna be pretty damn dope, watch out for that.
DK: When did you transition away from doing the remixes and re-edits into doing the original production and working with live artists & vocals and why?

M-Rock: Around December 2013. I saw Ronson work in the studio for a day, and he was making the rare groove stuff I love from scratch, and he played me a bunch of songs he had done in a similar vein. As soon as I got back in the city, I bought a bass, and a month later, I got in touch with Adam Feeney, who's making original samples in the big leagues, and he saw potential in my work. Now that's my entire focus, the reason is that I love good music, and now it's time to make music that's 100% something I'm involved in, not just an edit.
DK: 416 Band is an intriguing name for a group. Can you talk about what the concept is and what the "Feel Bad" track is about?

M-Rock: The name's just a spin off simple 80s funk names like S.O.S. Band or Average White Band. "Feel Bad" is all about the typical sitcom/movie scenario: boy loves girl, girl is dating the douchebag with no soul, and no appreciation for her. Musically, it's about dancing. I hope people move to it a little. It sounds kind of new, it kind of doesn't, and just like everything I've done, I don't know where to place it or how to label it. I just hope y'all dig it.
DK: Final question: when I first heard "Feel Bad" it gave me a bit of a Chromeo vibe. Do you see the comparison and if so, what's your feeling on anyone making it?
M-Rock: Music speaks for itself, and any comparisons to Chromeo or anyone are welcome, in fact, they are pretty flattering even though I myself don't listen to them. I was going for an old sound actually, but if you hear something newer, then that's cool with me. I'm just glad people don't hate the track (well 4 of my friends do, ha). In fact, I'd love it one day if people could compare my stuff to Midnight Star or Daft (Punk), that's what I'm going for.
Want to check out some of M-Rock's previous production and remix work featured on The Kitchen? CLICK HERE.
Song credits:
Written by Maneesh Bidaye
Produced by DJ M-Rock
Audio mastering by Neil McDonald & Paul Kehayas for Echosound Studiolab
Art by Tiffany Pilgrim for Tiffany Pilgrim Art Direction & Graphic Design
Follow DJ M-Rock Online: Website | Facebook | Twitter | Instagram