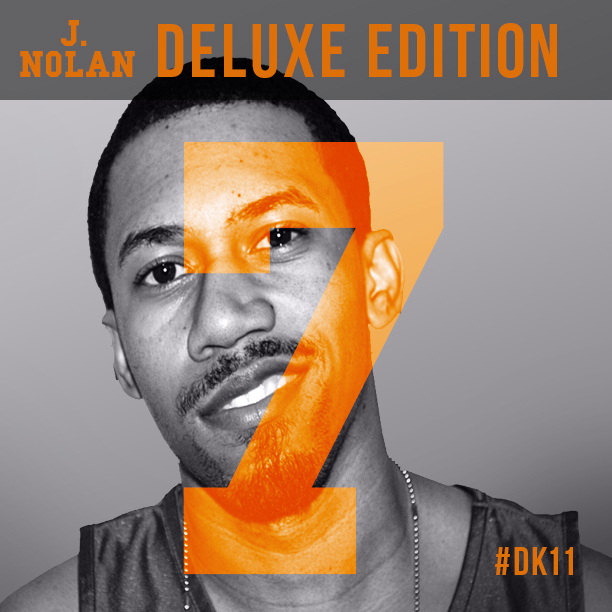 Gotta give the homie, J.Nolan mad props. He took getting down with the #DK11 THIS ONE GOES TO ELEVEN… album real serious and hustled to get his contribution to the album, a track titled "Deluxe Edition" on all kinds of blogs and sites. Shouts to DJBooth.net, All In A Day's Work, CWMuzik, AyeBro, TOAN Magazine, Unheard Voices and all the other sites I may have missed for supporting the song.
We've been supporting ATL-based, J.Nolan for going on 6 years now here and on the old version of The Kitchen site so it was an honor, as with all the acts on the #DK11 comp, to have him be a part of the album. I asked him a few questions about the "Deluxe Edition" track and his prior work and this is the result:
DK: I can't remember how I came across it now but The Up-Bringing 2.0 was the first music by you I heard and supported on the site. The title alone suggests that was not your first full length project? How long had you been making music at that point?
Jamar: That project was done in my 3rd year of actually recording music. The original Upbringing was an EP made exclusively for Myspace when the 5 track limit was still there, so we wanted to expand on that idea and gain some traction with the follow-up.
DK: Back in 2010 we premiered your Broken Dreams album as part of our Connoisseurs of Culture series. Looking back on that album what comes to mind and what are your recollections of making that album?

Jamar: Broken Dreams was my purest body of work, still to this day. I had just accepted God into my life and I was still young enough to not be bogged down from the business aspect of music. I recorded that album at my cousin, Yung B Da Producer's place in Colorado. The good ol' days.
DK: You're from Atlanta which nowadays is known for a very particular style of hip-hop which you don't happen to do. Is it hard to be an artist whose sound could be described as more traditional, classic style hip hop living in the A?

Jamar: I'm originally from Connecticut, so that's where I had my first encounters with music. My family only stayed a few years, but I always embraced the entire east coast sound because it reminded me of home. The Atlanta audience respects my craft, but I'm learning how to adapt my craft for those that may not listen to boom bap type records. My next project will showcase that.
DK: The opening ad-lib, "It's that Rosenberg type stuff right here…" is a reference to Hot 97's Peter Rosenberg, right? Did you shout him because he's a champion of the kind of style of hip-hop you do?

Jamar: Well, I wrote the song around the time Hot 97's Ebro was making his "Minors vs. Majors" declaration to everyone. At that time Rosenberg was still arguing on the behalf of traditional Hip-Hop at Hot 97 so yeah, I figured "Deluxe Edition" was the type of song he'd probably step up for.
DK: I also heard a reference to Jim Duggan on the track. Are you a pro wrestling fan? You know, ironically Rosenberg is apparently a massive wrestling fan too?

Jamar: Yeah, I'm a fan of pro wrestling too. I'm not as up to date as he is with the current cast of characters though, but I've always indulged.
DK: "Deluxe Edition" has been really well received and been picked up by a few other blogs. Can you talk a little about what the track is about and what the process was like making it?

Jamar: That song is about a year old, I've been performing it locally since last fall. Reese Jones and I formed a duo called The Humble Legends and that was one of the marquee songs I knew people would respond to. The concept of it was inspired by the deluxe version of albums being more coveted than the standard version, so I wanted to make a song that people regard as above the standard. I was listening to Only Built 4 Cuban Linx quite a bit at the time, too. You can tell by my choice of words on the record.
DK: It's also slated to be on one of your upcoming projects. Can you talk a little about what that project is and when we can expect it?

Jamar: It's gonna be on The Humble Legends full-length, Keep it Cordial. Reese and I have a great chemistry as a duo. People can expect that early next year. I have a promotional mixtape called Loose Files 2 coming in October for those that can't wait.
DK: I haven't really asked many of the other artists on the comp about this but the Ferguson situation around the murder of Michael Brown doesn't seem to be abating. As a young black man whose been given this gift of being able to express yourself through the platform of music, do you have any personal opinions on what's going on there or thoughts on how the hip hop creative community has addressed the situation so far?

Jamar: The Ferguson situation is disgusting to me, personally. I grew up being warned to be careful while out with friends just because we're black. This is essentially what my elders warned me about, so it's really disheartening. I don't even understand why the police and national guard are at the site at this point [ed note: this interview was conducted a while ago when the National Guard were still in Ferguson]. All they have to do is leave and let the community nurse their wounds, man. Hip-Hop can't do anything for those residents besides show gratitude for their courage. Ferguson is Hip-Hop, they don't need some artist to put on a cape. But if anything, let's actually display the struggles of our people instead of doing tribute songs one day out of the year. How about artists get back to speaking our truth as a culture?
DK: Thanks. Any final thoughts or things you want to share before we wrap up?

Jamar: Thank you for having me on the comp! Loose Files 2 is coming this October. Artists seeking a platform for their music can also check out the podcast I co-host called Fresh & Local Radio. Much love and respect!
DK: OK, that's it! Thanks, Jamar.

Haven't heard "Deluxe Edition" yet? Check it out right here:
Song credits:
Written by Jamar Nolan
Produced by Reese Jones
Audio mastering by Neil McDonald & Paul Kehayas for Echosound Studiolab
Art by Tiffany Pilgrim for Tiffany Pilgrim Art Direction & Graphic Design
Follow J.Nolan Online: Website | Facebook | Twitter | Instagram
Somehow missed listening to the THIS ONE GOES TO ELEVEN… album? CLICK HERE to hear it in FULL.