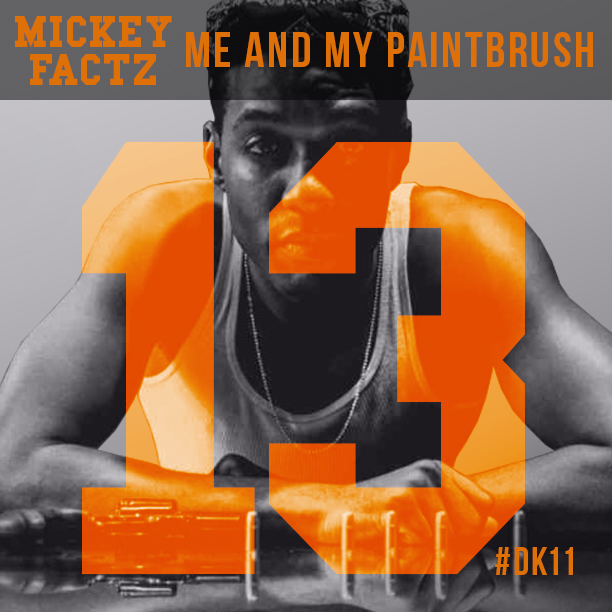 Mickey Factz is a special artist here at The Kitchen. He's one of the first new acts that we championed on the site and, without idly boasting, we were the first blog to support him back in the day and helped put him on the map. And in turn, he helped put us on the map as a tastemaker site that other tastemakers checked for that signaled to people that they needed to be checking for The Kitchen too.
Seven years on from when we first introduced him to the word, we still strive to fulfill that role of being the freshest, supporting the new & dope and not just following the (blog) crowd. Mickey set the bar for the kind of acts we love to support most here at The Kitchen: ridiculously talented, creative and really saying something of substance. Art (music) can be fun but it can also make serious statements about the world we live in and that's the standard I try to reach for with this blog too. And with that, let's get into the conversation we had with Mickey a couple nights ago about his career and the excellent track, "Me & My Paintbrush" he gave us that closes out the This One Goes To Eleven… album:

DK: I got put up on you back in the day when I was at Jive and knew Kwasi from the industry. He passed me your In Search of N*E*R*D mix CD (it was still CDs back then!). I was pretty leery about checking it out but I knew Kwasi was a pretty plugged in cat so I gave it a shot and was pretty blown away. What's your thoughts on that tape looking back now?
Mickey: Wow, man. This is like a time machine. October 2006, I believe? (Ed note: March 2007, actually) I'm glad you checked it out. You were the absolute first person to put me on a blog. I'm happy you were blown away. I listened to the project not too long ago. It's still impressive given that a lot of the tracks I rapped over, people still haven't. Pharell loved the tape and put one of the songs on The Glow In The Dark mixtape. Back then it was like a 9. Nowadays, I'd give it an 8. Its still lyrically superior to a lot of stuff out, from just spitting to topics.
DK: Your crew, GFC could be considered part of a loose cultural hip-hop movement that back then was still pretty nascent, Cool Kids, The Pack, Kid Cudi and few others here and there but which has essentially taken over the sound & fashion aesthetic of hip-hop in the seven or eight years since? Did you see that coming or what's your feeling on where hip hop has gone in the past few years?
Mickey: Um… Back then, we were just having fun being in our own little world. When your with tastemakers, that's what happens. Especially with the clothing. We knew people would jack that. As for music, I always said it would be the soundtrack to 2016. And we 2 years away and you see it, Lol. I find it to be flattering a bit. I just find it a little disrespectful how I was clowned so badly back in the days and now it's basically the norm for artists to follow. As long as people from back then can co-sign my marks I've left in the hip hop game, I'm happy with that.
DK: You were one of the first rappers to really build a career via social media with your track-a-week freestyles and really build your presence and name via blogs rather than traditional media. Now that everyone pretty much tries to do it that way and it's become the de facto artist development template, what do you do now to make yourself still stand out?
Mickey: I have a very personal connection these days with my Facebook followers. So much so that quietly I go viral at least once a week with them. They also were my biggest contributors for my Indiegogo project. I continuously just have creative things I want to push for. Especially visual wise. Collaborative efforts with brands are still one of my strongest attributes. I also just make really good music. People who don't like me have to at least give me that.

DK: Ironically you ended up signing to Jive after I left there. What was your major label experience like?
Mickey: I want to say that I loved being on Jive. There were times we bumped heads but the people that I worked with really believed in my work. There were really only 2 people that I couldn't rock with. Aside from that, I was very happy. I coulda did more and vice versa but it was a great experience. Moving to RCA, was the dagger in my heart though. That really was a bad experience. It made me hate the music industry a bit. But as you know perseverance always comes through.
DK: You're an artist that seems equally comfortable spitting over traditional hip hop beats or more hipster electronic or dance music sounds? Can you talk about what in your background led to that being the case?

Mickey: Well coming up in The Bronx, I'm a true Hip-Hop head and can debate with the best of them. I studied the greats and what they rapped over. The shift happened because of the New York scene in 2006/2007. The things we were listening to: Telepopmusik, Daft Punk, N.E.R.D., etc. and I felt like incorporating what I was inspired by into my music. Why not, you know? I found myself rapping over crazy instrumentals that people wouldn't dare touch but still opening up my fan base to people who listen to those sounds. I would still go in over boom bap stuff so they knew I wasn't something or somebody to sleep on or play with when it came to straight raw lyrics.
DK: You're also an artist that isn't afraid to take on political and social issues in your music (like your Sean Bell track) but doesn't get all preachy about it? How do you manage it when so many other rappers can't or are afraid to still.

Mickey: I recently was asked about this. For me, I just feel like I can tell stories extremely well. Its just one of those qualities as an emcee I possess. I also try to stay middle grounded when it comes to politics with a spice of edge. Being knowledgeable in so many different facets of life can also add to that equation. The Sean Bell situation I was getting tired of rappers reaping the benefits of his death by creating music that Flex could put bombs on it. So I decided to tell the story from his point of view. And people loved it. I've done this many times after and continue to speak on different issues we as blacks deal with as well as things I deal with in my life.

DK: Out of all the mixtapes you've done, which is your favorite and why?
Mickey: Mickey MauSe is probably my favorite project hands down. It took me 9 months to create. I produced the whole thing, I grew a beard, became the character, researched the 80′s, wore the same outfit for 9 months, etc. I became the project. Lyrically, it was story telling on another level, production was top notch, I sampled Dangermouse and deadmau5. So inspiring.
DK: Talk a little more about the process behind making and the meaning of "Me & My Paintbrush"? The track kind of came out before. How come you never gave it more of a push?

Mickey: PACE had sent me a track while I was in Colorado. I was creating a bunch of singles. No real Mickey Factz music. So I decided to speak on everything that was going on during that time. Just painting on the canvas. I put the song out with no promo because it was just for my fan base. It was a record that didn't make the album. I then took it off when it came down to your project, good brother.
DK: In the track you make reference to XXL calling you pretentious and then praising Jay-Z for his "Picasso Baby" performance piece, care to elaborate on what you were trying to say there? Do you feel like, even though you've been in the game for a while, you're still relatively overlooked for your innovations in the game?
Mickey: It goes back to the Mickey MauSe project I created. Mickey MauSe is a street graffiti artist from the 80′s who grew up around Warhol, Basquiat and [Keith] Haring in NYC in the 80′s. It was a super honest depiction of what happened in that time period coming from months of research and interviewing people. A XXL writer reviewed the tape and called it pretentious. Saying I was teaching too much or something of the sort, don't want to misinterpret. That really hurt me more than anything because I really indulged in that project. I wanted to show people, don't just say these artists names, know their work and worth. Jay does "Picasso Baby" and its "OMG I love art! This the greatest thing ever!" Its sad but true. I said on MTV if Kanye had created Mickey MauSe and did the same thing he would be called a genius. I'm always overlooked and will always be overlooked for the things I've done, started and contributed. As long as true fans know what I've done it's OK.
DK: Finally, I've asked this question to all three of you but there are 2 other Bronx-based artists, Noah Vinson and Joel (fka MaG), on the album which I'm happy but bummed about at the same time since I was a Brooklyn head when I lived in NY and there's no BK artists on it. Do you know those guys and what does being from the BX mean to you as a hip-hop artist and as a person?

Mickey: I don't know these guys. I believe one of them reached out to me though. I have nothing but love for all Bronx emcees 'cos we are so overlooked. Being from The Bronx there is so much weight on our shoulders. But the love and respect comes from everywhere.
Haven't checked out "Me & My Paintbrush" yet? Hit play right here:
Missed checking out the whole This One Goes To Eleven… album? CLICK HERE to listen to it in full.
Song credits:
Written by Mickey Factz
Produced by Pace
Audio mastering by Neil McDonald & Paul Kehayas for Echosound Studiolab
Art by Tiffany Pilgrim for Tiffany Pilgrim Art Direction & Graphic Design
Follow Mickey Factz Online: Website | Facebook | Twitter | Instagram