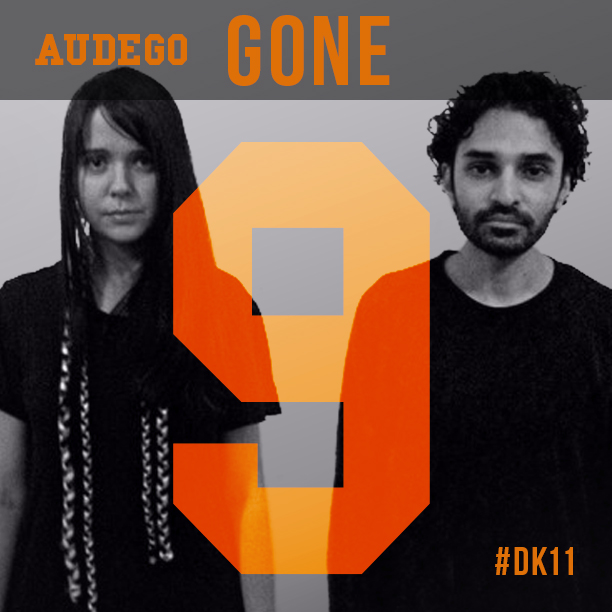 What can I say about Melbourne, Australia's Audego? I discovered this trip hop electronic soul duo while doing a little side gig hustle screening submissions for NXNE this year and I have been a committed fan ever since checking out both of their shows when they flew halfway around the world to perform twice at NXNE, at one venue literally on my block and then at one two blocks away from me. How could I not ask them to contribute a track to the This One Goes to Eleven… album under those circumstances??
Luckily they said yes and I'm glad they did. Their track, "Gone" is not only incredible but is undeniably the hit of the compilation so far racking up over 8,000 plays on Soundcloud to date. I can't say enough good things about Carolyn and Paso. Not only are they amazing musicians and really chill people, those cool day count banners I used during the 11 day roll-out campaign? Thank Paso for those too. Anyway, I wish them all the best but based on their talent and tremendous karma, I don't think they need my wishes. It was great to talk with them about their music though which you can read here:
DK: I've seen Audego described as doing future soul but listening to your second album reminds me lot of Portishead at times. However Carolyn, your stated vocal influences tends more towards 90s R&B singers like Brandy and Whitney Houston which some might find surprising based on the sound of your music. Can you talk about how those singers inform your music now and what your other musical inspirations or reference points are?
Carolyn: Growing up, I was surrounded by such diverse music. My parents were really into Queen, Joe Cocker, Michael Jackson and Billy Joel, so I listened to those guys a lot growing up, and I still love all of them. My brothers got me into Nirvana and Silverchair later. I definitely listened to a lot of RnB when I was a teenager, but I was also really into Fiona Apple and Aretha Franklin and then later I got into Billie Holiday and the Andrews Sisters. Basically, I don't doubt that I have been influenced in some way or another by all of the singers I've been obsessed with over my life, but my tone is what it is. I sound like me and I definitely don't want to sound like anyone else.
Voices are such personal things and are the result of your genetic makeup, your own creative directions and the amount of substance abuse you've subjected it to. My voice would be so different if I hadn't smoked so much. I think I just sound like me. I try not to listen to other singers that much now because I really don't want to adopt any of their stylistic behaviors. I would like to sound as unique as I can.
DK: Paso, I hear a lot of hip-hop influences in your sound, big drum beats and loops, samples and even scratching. Are you a hip-hop fan and which acts do you listen to?

Paso: I listened to hip hop exclusively from around age 8 to around my late teens. I first got into Run DMC, LL Cool J, Beastie Boys, all those early Def Jam acts. The song that really tipped me over the edge was Public Enemy's 'Terminator X to the Edge of Panic.' From the cut up intro to (what I thought was) a boiling kettle whistle looped in the background [ed note: actually a great sample chop of James Brown side group, The JB's "The Grunt"] to Chuck's attitude and Flav's comic asides, I was totally blown away. I had never heard anything like it. That raw energy and abstract wall of noise left a lasting impression. Production wise I am most influenced by the The Bomb Squad, Prince Paul, Primo and RZA.
DK: OK, that makes sense. "Fight" and "From My Blue" were the first songs I heard from you guys off your last (second) album, Beneath the Static and the Low and they seem to be the tracks getting the most attention. Can you talk about how that album differs from your debut album?
Carolyn: I think "Liar" has actually gotten the most plays out of all of our tracks, but "Fight" and "From My Blue" are definitely getting some love too. Beneath the Static… is a lot more polished than Abominable Galaxy. We took a lot more care in its inception. I rushed into a lot of decisions vocally in Abominable Galaxy, which made me cringe later. I think Abominable Galaxy is a lot darker production wise and lyrically too.
Paso: On Abominable Galaxy I was just excited to be making music with Carolyn! Being a new partnership we only had a vague idea of what our sound was. I had just started using a new program and was starting to mess with synth plug-ins. With Beneath the Static… I knew my tools better. We put more thought into crafting 'songs' as opposed to making beats with singing. We experimented with different song structures (e.g. "Fractures"' build-/crescendo-fade out). We had a clearer idea of what our sound could be. The guiding catch phrase for Beneath the Static… was 'future noir'.
DK: You said when we met up last in June at NXNE that you guys had more fans in the US and Canada than your native Australia. Why do you think that is?

Paso: It's been the US and Canadian blogs that have given us some shine that's really helped. I don't know of many beats/electronic/new music focused blogs in Australia that have followings that big. Maybe it's just a numbers thing, there are a whole lot more people over there!
Carolyn: Also, I just think we don't fit in to the music scene here. Australia is really into barbeque friendly, sunshine, party music and we're not that. Australia also really loves to support male vocalists. It's much harder to get love if you're a female vocalist in Australia. But we're so grateful that we're finding our niche overseas.
DK: I know "Gone" comes from a pretty dark place in terms of what inspired it and your music has quite a dark, blue feeling in general. Can you share what inspired the song and if you find more inspiration tapping into those darker feelings or moods than more lighthearted subject matter?
Carolyn: Emotionally I can be pretty stunted. I tend to hide behind inappropriate jokes and sarcasm and don't really communicate properly. Music is a great avenue to express things that are too much for me to cope with. "Gone" is about losing someone to addiction and watching them slowly kill themselves. I was making myself sick with sadness from that situation and it was just festering internally until I wrote "Gone." Songwriting can be a sort of exorcism.
The track actually started off quite chipper melodically; it was in a bed of harmonies that were arranged in a major scale, then Paso flipped it on it's back by writing the arrangement in the relative minor, which he always does by accident, but it's such a cool mistake to make. So, the track became quite grim sounding, which is suitable for the lyrical content.

DK: "Gone" and another track, "Moments" you gave KCRW are from your forthcoming album. Are they indicative of how that album will sound and if not, can you share any details on how the rest of the album will sound, how it is different from Beneath the Static… and when can we expect it?
Paso: I think those two songs are a fair indication of how the new album will sound. We're still in the very early stages though, writing as much as we can. We don't yet have the concept nailed down. It's like we're speeding along in a manual car and we've gone to change gear but haven't quite engaged yet.
Carolyn: Yeah, it's still definitely taking its shape. We don't have a predetermined concept for the whole album. We like to let the songs happen naturally.
DK: "Gone" has become the break out track of the compilation which is ironic since it is one of only two tracks on there that aren't hip-hop. Thank you for sharing it with the DK readers early. Is there anything else you'd like to add before we wrap this up?

Carolyn: Just thank you for letting us be a part of the album! We love Different Kitchen and are really excited to be involved with the compilation.
Paso: Thanks, DK for your support!
DK: Thank you, guys!
Haven't heard "Gone" yet? Hit play below (then GO HERE to listen to the entire THIS ONE GOES TO ELEVEN… album):
Song Credits:
Written & Produced by Carolyn Tariq, Shehab Tariq
Cover Art Design Tiffany Pilgrim for Tiffany Pilgrim Art & Design
Audio mastering by Neil McDonald & Paul Kehayas for Echosound Studiolab