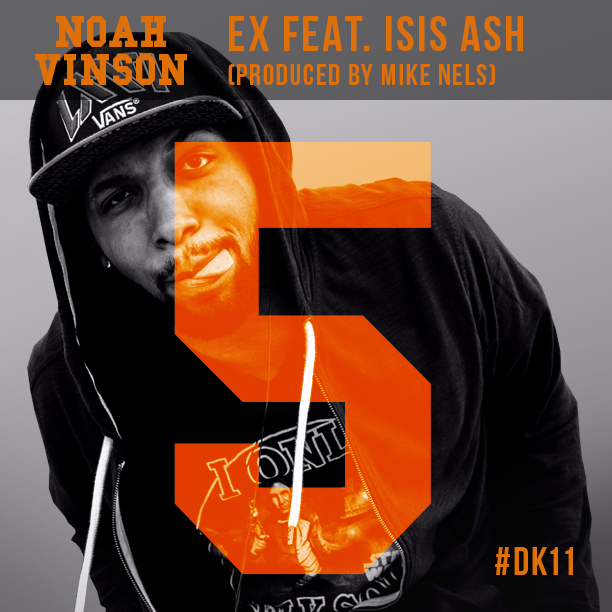 The Kitchen has been a supporter of Bronx native, Noah Vinson for a while now ever since we stumbled upon his mixtape, The Life almost two years ago in our submissions inbox. Since then he's proven to be an adept MC who can handle himself over new school, minimalist trap feeling tracks or classic style hip hop beats alike.
We were honored to premiere his single "Nation" featuring long time collaborator, Frank Ramz last year so of course, we had to ask him to be a part of the #DK11 project and contribute a track to the This One Goes To Eleven… comp. He gave us a banger of a track called "Ex" featuring singer, Isis Ash, a track he said was:
"Based on real life occurrences. I know a lot of guys who could identify with this type of situation so I thought it'd be a great idea to turn the tables. Often you hear records like this from a woman's perspective and more often it tends to be a negative reaction. A lot of times people break up with their significant others and it's a negative response but it doesn't really always have to be. Sometimes you end on a positive note through it all. I never heard anything like that before in song format so I thought it'd be a interesting take on a breakup song where, I'm not wrong, she's not wrong and I'm not constantly demonizing her or placing blame. Sometimes no one is to blame."
You see? Grown person themes over a beat that both bangs and has a sophisticated arrangement & song construction. Check that breakdown and gospel house style piano coda at the end of the track1 I'd love to hear "Ex" done live with a proper band some time. Get them soul claps going and while you are, get onto our conversation with Noah:

DK: I was a big fan of your mixtape album, The Life. Tell me about making that album and how you think you've evolved as a person and artist since then
Noah: The Life was a good turning point in my life, at that point I was still kind of playing with the sound that I wanted to go for. I had some damn good recordings on there, and at the time working with the team I was working with I was having a lot of fun, and I feel like that's where I really found my sound. I feel like now things are so next level with my music, my perspective on things in life have changed so all of that effects what you hear today. The Life was good, but It's really only getting better from here on out.

DK: Frank Ramz is a frequent collaborative partner of yours. Tell me about what it's like working with him, and your relationship?
Noah: Well the first time I worked with Frank Ramz, was actually on The Life album, he was on "H.I.H (Humans In Hollywood)" alongside Rich-P, and ever since then we just been working more and more and more. He's become one of my favorite artist and one of my favorite people to work with, he's a good dude, dedicated and one of the best rappers I've had the pleasure of working with so far in my career. So we decided to do a project together, it should be dropping this September, its called …And The Phone Was On Silent. I know Frank and a lot of people on twitter have taken to calling it Watch The Phone (laughs). I look at Ramz like a big brother in this rap sh*t, and just a overall good friend.
DK: There are 2 other Bronx NY artist, Mickey Factz and Joel (fka MaG) on the album which I'm happy but bummed about at the same time since I was a Brooklyn head when I lived in NY and there's no BK artist on it, Do you know those guys and what does being from BX mean to you as a hip-hop artist and as a person?
Noah: I know about Mickey Factz. I don't know about Joel, but I'll check him out when I get the chance. I don't know them personally but at one point I was a big fan of Factz, I think he's super talented, and a smart individual. I follow his facebook account we often have a lot in common in terms of perspective and the type of things that we are interested in, (like anime, movies, games, etc.). I take pride in where I'm from and in what I'm doing with Frank collectively for the borough itself. Usually cats that come from where I'm from its Trap Music, and I feel like its so dope that we've chosen to do the opposite. There are a lot of REAL artist here and I'm proud to represent what I feel like is a borough forgotten. I like being the underdog. In reality I'm doing this for Noah Vinson, and I'm repping New York City. Period.
DK: Your track, "Ex" from This One Goes To Eleven… is also going to be on a forthcoming project of yours called Young & Proud but you also just dropped that new "On God" track from the …And The Phone Was On Silent Noah Vinson & Frank Ramz collab project. Can you talk a little about what each project is about and how they differ from one another?
Noah: Young & Proud is a little deeper than my up & coming project which is why I've kind've put my new project in the spotlight. Young & Proud is in a very delicate stage right now, the songs & content are very emotional and a more personal side of me: my thoughts, and the lives of the people around me. …And The Phone Was On Silent is more like a fantasy draft, like, "What if two of the most dangerous emcees coming out of the same area did a mixtape together?" It's a different feel, it's different music and all around engaging from start to finish so I'm very proud of the outcome thus far. "On God" was a complete GEM and we at the last moment decided to include it on our project. Ramz sent me the beat with his verse on it and then send it to ReQ and Wordsmiff and we all just made magic happen. They dropped it on Sunday (the Lord's Day, get it?) which I thought was cool so I sent it to the people directly and within under 72 hours it got a lot of love from the twitter community so I appreciate and Love everyone who's been rocking with us so far.

DK: Rockin' with you no doubt! I know it's a long time into the future but where do you want music, yours or the music industry as a whole, to go in the next 11 years?
Noah: Well we all know where the music industry is headed right now (laughs) as far as my music goes and where my catalog stands with all that is going on, I feel like I want it to be stand alone and actually WORTH something. I want my work to be well-valued, I want my recordings and lyrics to be valued more than anything. I want my core fans to be proud of the what we've accomplished, ten, twenty years from now. I may not live forever but these records will, and I want us to make an impact on the world as a whole through the poetry, through the art, and through the rhythm we create.
Haven't heard "Ex" yet? The click play:
Want to hear Noah's latest heater, "On God"? Hit the jump then CLICK HERE for the THIS ONE GOES TO ELEVEN… album featuring the single, "Ex" if you've somehow managed to miss it so far.