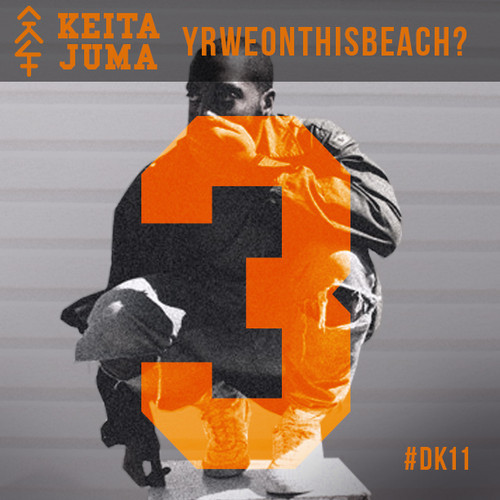 I've been a fan of Toronto-based rapper, Keita Juma (fka KJ) forever or more accurately since I moved back from NYC in '09. He was one of the first of the new wave of local acts I got put up on after I came back home. I was super psyched when he agreed to be part of my This One Goes To Eleven… 11th anniversary compilation album. If you haven't checked out his previous albums, Water and The Headphone Album, you need to rectify that immediately! KJ's music is some of the best, most creative stuff happening in hip hop anywhere. Anyway, I was also happy that the homie agreed to answer a few questions about his music and in particular, the track, "YRWEONTHISBEACH?" that he gave us for the #DK11 album. Read on for what he had to say…

DK: You're from Bristol, England originally, home of Massive Attack, Portishead (kind of), Roni Size, Smith & Mighty etc. How does being from home town of that incredible musical legacy inform your music?
KJ: I only recently went back and listened to a lot of those artists and found the similarity and was shocked initially. It wasn't my intention to make a certain kind of music, only to make music that I felt reflected my personal experience. My memory of music in Bristol as far as that sound was at St. Paul's Festival and through pirate radio stations. The hard part about that was I never knew any of the artists names, just the sounds. Upon reconnecting with these artists music now it makes complete sense why my sound is the way it is. To add to that, my favorite jungle song when I was younger was Shy FX and UK Apachi, "Original Nuttah," such a big riddim. I think that was around the time I left England.
DK: There was a lot of great music dropping around that time (ed note: mid 90's). I first got up on you though from the amazing one-take "Repeat" video which I loved. The track was from equally good The Headphone Album which is 5 years old now. What's your thoughts when you think back on making that album or listen to the music now?
KJ: I just remember being super-inspired and it all happening in my bedroom in a short span of time. I had a lot of fun doing that record, thought I was going to take over the world. It's crazy to hear the differences now though. I think that's why I still love that album so much. It tells a few stories, mine as a producer, a rapper and a engineer. Everything is so different, the mixes were weak (laughs), the production was very raw and the lyrics were me at that time. I'm fine with that though, nobody has been able to rush being a good/great artist, it's a process.
DK: Talk about the progress you made as an artist and/or person from doing The Headphone Album to recording the Water album
KJ: The Headphone Album was a happy accident. I felt a vibe and made a bunch of songs and they worked together. My understanding of mixing was very basic at that time because it was before I went to school, so I wasn't able to sonically put it where it needed to be. Water was me understanding my process, creating and writing songs how I wanted to and in a way that I was comfortable with. I engineered that album but didn't mix it, Noel Cadastre mixed and I watched & listened. That was a huge step for me in terms of learning, learning to create on a technical level as much as being creative in production and writing. After that I felt like I knew what I wanted to do and set out on that path and that's where Chaos Theory comes from
DK: Speaking of Chaos Theory, which is your next project, can you talk about what that's going to be about?
KJ: Chaos Theory is about the now, but my version of now, through my eyes. This is my masterpiece project, but to be honest I felt that way about Water. I guess the major difference with Chaos Theory is that I produced, wrote, engineered, mixed and mastered the entire project. That's the first album I've done that with. The funny thing is I set out to collaborate more with this project but it just didn't turn out that way.
DK: You've moved as of late to recording more EP length projects (the Peephole / Beach EP & Chaos Theory) rather than full albums. Why?
KJ: Well Chaos Theory is an album now
DK: I stand corrected
KJ: Well it's an album now because its 9 songs and could easily be 10. I like EP's though. I've had ongoing convos with friends about how people don't listen to albums and we should just slow the releases down and keep them smaller and as far as the independent scene, it looks like its happening. I like flowing projects with themes but to wait a year to put out a project nowadays is too long plus you go to the soundcloud and the first song has the most plays and the last song is just out here looking grim!
DK: You're a bit of a left-leaning rapper in general but your track on the comp "YRWEONTHISBEACH?" is even unusual for you. It seems to be exploring themes of identity and belonging but can you talk about the inspiration, meaning and process behind the track?
KJ: Peephole/Beach was loosely based on me going to Jamaica and "YRWEONTHISBEACH?" was supposed to be about getting lost on a beach in Jamaica. I didn't get lost on a beach in Jamaica but it made me think about experiences feeling lost. It actually turned to be about being in cottage country and feeling like you stepped in a time machine because there aren't any black people out there. Where does one go to find the Black people when you're up north.
DK: You're a frequent collaborator with Brendan Philip who's also on the This One Goes To Eleven… album. Wondering if you can talk about why you guys click so well and maybe offer your perspective on his track on the album which you produced (called "Look")
KJ: Brendan is my brother. I've known him since I was 14 and I've grew as an artist and person through our conversations and we've also been making music since back then. He's one of the few peoples whose musical opinion I trust 'cuz he's been up on most of the music I'm just taking in now. A lot of it I made fun of him for listening to when I was younger and now I'm like "Damnnn B, I was sleep back then." Brendan's naturally ahead of the curve/times though, I think that's his X-men type gift and now he can control it and is aware and about to take sh-t over. "The Look" is just a beat I sent him and Jahmal for us to work on. I ended up getting all the vocal stems back and put the mix on it.
DK: Well it turned out dope so thank you! You and Brendan were also both part of the 88 Days collective which is pioneering the development of the black weirdo/black boho musical & cultural scene in Toronto. Talk about working with them and what you think they bring to the table musically here in the city.
KJ: 88 Days was something Toronto needed because through everything you always ended up at the art. We were just pushing our art and trying to be heard, nothing too complicated. We couldn't get shows so we came together to put on shows wherever we could, backyards, basements, bars, did the sound ourselves. I vastly improved as a performer while we were doing our monthly/semi-monthly parties, I felt so much love and trying new sh-t was welcomed. It sounds like some cliche hippie shit but it really was about getting love, creating a safe space and being a part of a community.
Wanna hear more from Keita Juma on The Kitchen? CLICK HERE.
Follow Keita Juma online: Website | Facebook | Twitter | Instagram