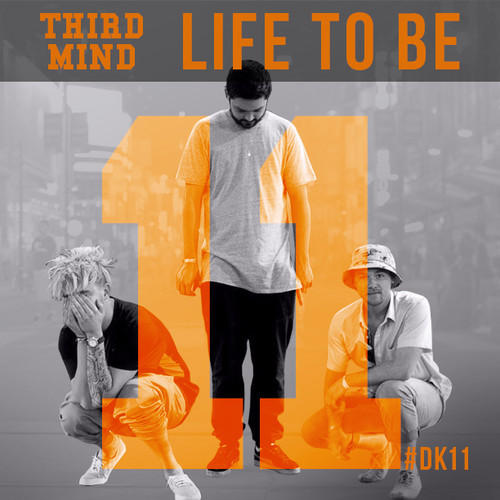 I posted their contribution to the This One Goes To Eleven… compilation album a little while back but I finally managed to get with Alex producer from the NJ-based group, Third Mind a few days ago and chop it up about the group, their #DK11 single, "Life To Be" and life as rappers from New Jeruz and more. Read on to find out what he had to say on those topics and more….
DK: You guys are still pretty new on the scene and just starting to make a name for yourselves. Talk a little about the group history, how you came together and what music you've released so far.
Alex: For sure! Our group name is Third Mind, we're a music group consisting of two rappers, GrimBane and deScribe, and one producer me, Alex Trevelyan. We've been making music in one way or another for a long time, since like 2005. However this Third Mind thing really all came together about three years ago.
DK: How did you guys meet when you first started the group though?
Alex: Me and Scribby met when we were in middle school and have been buds ever since, and we met Grimb through a mutual friend when we were like 14 so we were friends for a while before starting the group.
DK: I first got up on you guys when you submitted your music for NXNE. Your screwed up treatment of Eddie Kendricks for your track, "Intimate Friends" was a bit of mind-melter. Can you talk about the inspiration behind that track?
Alex: Thanks! The inspiration for that track was DJ Screw. (RIP) we're psyched that you like it.

DK: I hope you don't take this as a dis but your sound reminds of what some have called the 'Cloud Rap' sound. You guys definitely seem to have a very 'new school' reference points for the kind of hip hop you do like citing Lil B as a stylistically inspiration on one of your tracks. Do you feel any kinship with any of these 'now' genres that get buzz like 'Cloud Rap' or Tumblr rap?
Alex: We definitely feel related to that and don't mind being labeled as such. Its just natural for people to categorize music. Hopefully we can bring a new twist on those sounds. Lil' B, Main Attrakionz (who we have on the new release Virtual Afternoon), and A$AP Mob are most definitely what put us onto the sound. TYBG!
DK: Lol! Brandon (aka Lil B) is the homie. Anyway moving on, despite being so close to NYC, New Jersey still has had only limited success in hip-hop by comparison. Why do you think that is?
Alex: Not sure why this is. Never really thought about it to be honest. Hopefully we can change that perception though. And shout out, Joe Budden!
DK: "Life To Be" is a great track. Can you tell me what it's about and the process of making it?
Alex: Thanks again. It's about being in an altered state of mind all the time and how that could maybe not be the greatest thing ever for you but kind of loving it at the same time. Very conflicted feelings led to the song.

DK: An early version of track that you sent me, when it was still called "Same", had a slightly different feel: like less knock in the drums and no auto-tune in the chorus. Why did you guys change the track for the final mixed version you submitted?

Alex: It's nothing too deep. We just felt like the track wasn't up to par at first and wanted to make it more hypnotic and give it some more 'oomph.'
DK: Somehow I managed to screw up (no pun intended) and not see you guys when you came to Toronto for NXNE. What did you think of NXNE and the T.dot? Did you get to check out any local music while up here?
Alex: Toronto was amazing. We went and checked a lot of shows while there which was cool and the artists we performed with were all very dope. We love Toronto and would like to come back very soon.
DK: Thanks for contributing "Life To Be" for the #DK11 comp. Before we wrap up here, is there anything else you'd like to add or share about Third Mind and what's coming up for you guys?
Alex: Anytime, thanks for interviewing us. As I mentioned before, we have a new mixtape coming out very soon called Virtual Afternoon. We're putting the finishing touches on it right now. Stay woke!!
Follow Third Mind Online: Website | Facebook | Twitter
Note: this is the final original interview and feature to be posted from the This One Goes To Eleven… compilation album project. I'd like to thank everyone again for supporting, not only the album since it's release, but also the blog for the past 11 years.
Getting rated by XXL and VIBE and having major outlets like The Guardian, The New York Times, CBC News, Slate and the cool kids at the FADER acknowledge or reference us has been heartening and affirmation that my mission when starting this blog, sharing what I thought was great music regardless of where it came from was a worthy one.
Having the biggest music news outlet in Canada, Exclaim! co-premiere the album or having music industry veterans like Big C give the album props and help spread the word has only reinforced that we've been on the right track all these years regardless of whether we're still the biggest blog on the block or not. Thanks for all the support and stay tuned for even more fresh sh-t out the Kitchen moving forward. Here's to another 11 years??