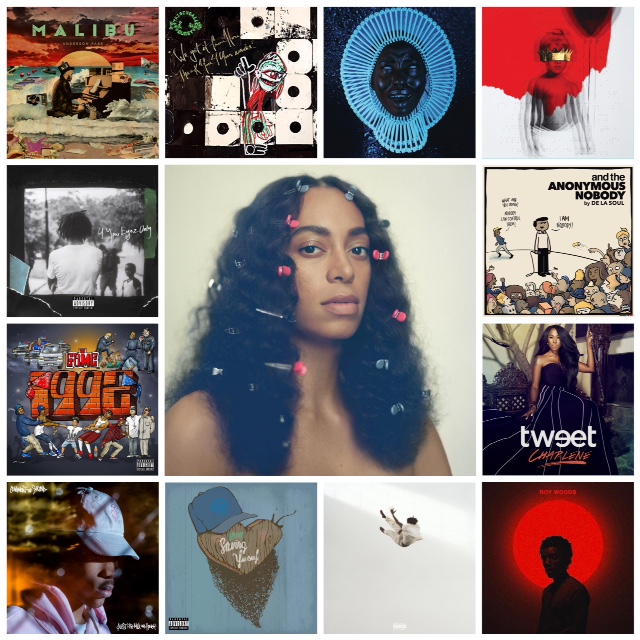 Just like last year, picking our Top 10 favorite albums for my Village Voice ̶P̶a̶z̶z̶ ̶&̶ ̶J̶o̶p̶ Music Critic's Poll ballot this year was tough! 2016 was yet another especially good year for music overall and quality full length albums specifically. Many of the 'Honorable Mentions' below were more than worthy contenders for a spot on my Top 10 (actually Top 12, I added Maxwell and I think my stupid ass actually forgot to include Childish Gambino's throwback funk-rock-inspired opus, Awaken, My Love! on my ballot so I had to make amends here on the blog).
I don't have that much to say about the individual albums here except:
– Vets and newbies alike put in work! A Tribe Called Quest dropped a masterpiece/tribute to their late member, Phife Dawg that should've been a coda on the joke-cum-nightmare that was the Donald Trump presidential campaign but instead became a balm for our souls as we contemplated what it meant for him to, instead of becoming a footnote in history, actually be taking office as commander-in-chief and 'leader' of the free world. Sibling act to Tribe in the Native Tongues, De La Soul, as they always do, rewrote the playbook for making hip-hop and proved veteran MC's can still drop impeccable wordplay while their original producer and mentor, Prince Paul, showed he still had the same innovative, fun and inventive spirit in his music as he ever did with his latest Latin/world music-meets-hip-hop album project, Brookzill with Digable Planets' Ladybug Mecca, Don Newkirk and Rodrigo Brandão. Meanwhile underground stalwarts like Dave East, Torae, Stalley and long-time Kitchen favorite Mickey Factz (with acclaimed producer, Nottz) all dropped excellent projects that garnered varying degrees of buzz.
– R&B/Soul kicked ASS this past year! Solange ended up towering above them all for my money although the Beyhive would probably be up in arms that I'm not according her sister that accolade for LEMONADE (for the record I loved that project more as a short film visual than as an album but I wouldn't fight anyone who disagrees with my take on it). For most of the year before, Anderson .Paak's Malibu and A Seat at the Table were released, I thought ANTI was going to be my album of the year and it still amazes me how many wouldn't give it a chance just because it was made by Rihanna. Be clear: ANTI is an alternative pop-soul tour de force that would be getting universally heralded if it had been made by Solange, SZA, FKA Twigs or some other boho black girl beloved by indie/alternative media types and not pop's resident, gives no f-cks, bad girl (Riri). She gets love in those quarters too but not quite so across-the-board. And, speaking of beloved by indie/alternative media type artists, while it didn't blow me away like Channel Orange or as much it did other people, Frank Ocean's Blonde was further proof that he is one of the most creative talents in music, period. If you liked your R&B a little bit more down the middle of the traditional road (or as traditional as it gets in 2016) though, albums by Maxwell, new jack Maxwell heir apparent, Gallant, John Legend, Alicia Keys and Tweet, in a very welcome comeback after a looong hiatus, were all well worth your time. That last album, Tweet's Charlene was so criminally overlooked, it almost hurt my heart.
– Toronto and Canada represented! Albums by Drake, The Weeknd, TOBi, Roy Woods, Daniel Caesar, Dvsn, Clairmont the Second, Kaytranada, LAL, River Tiber, Harrison, SATE, Tona Tencreddi, Zeds Dead, A Tribe Called Red and many others I didn't even include on my list, confirm we now have the best urban/Black music scene in the world, no discussion!
So all that said, here's the list:
FAVORITE ALBUMS OF 2016:
Top Albums (in no particular order):
A Tribe Called Quest – We Got It from Here… Thank You 4 Your Service
Childish Gambino – Awaken, My Love
Anderson .Paak – Malibu
Rihanna – ANTI
Solange – A Seat at the Table

Best of the Rest:
J. Cole – 4 Your Eyez Only
De La Soul – and the Anonymous Nobody
Dave East – Kairi Chanel
The Game – 1992
Maxwell – BlackSUMMERS'night
Stalley – Saving Yusuf
Tweet – Charlene

Honorable Mentions:
A Tribe Called Red – We Are the Halluci Nation
Beyonce – LEMONADE
Blitz the Ambassador – Diasporadical
Brookzill – Throwback to the Future
Daniel Caesar – Pilgrim's Paradise (note: rel. Nov. 2015)
Chance the Rapper – Coloring Book
Clairmont the Second– Quest For Milk And Honey
Leonard Cohen – You Want It Darker
Consequence – A Good Comeback Story
Domingo – Generation Next
Drake – VIEWS
Dvsn – Sept. 5th
Gallant – Ology
Harrison – Checkpoint Titanium
Kaytranada – 99.9%
Alicia Keys – Here
Kendrick Lamar – Untitled Unmastered
LAL – Find Safety
John Legend – Darkness and Light
Mickey Factz & Nottz – The Achievement: Circa '82
Frank Ocean – Blonde
Radiohead – A Moon Shaped Pool
River Tiber – Indigo
Royce 5'9" – Tabernacle: Trust the Shooter EP
SATE – Red, Black & Blue
TOBi – FYi EP
Tona Tencreddi – The Ivy League
Torae – Entitled
The Weeknd – Starboy
Roy Woods – Waking at Dawn
ZEDS DEAD – Northern Lights
If you missed any of these during the past year, you really should consider giving them your time and attention now. I'm sure you'll find something you'll dig. Did I miss or overlook any albums you think should have been mentioned here? Let us know in the comments or Tweet / Facebook us.

Previously on The Kitchen:
DIFFERENT KITCHEN'S FAVORITE SONGS OF 2016