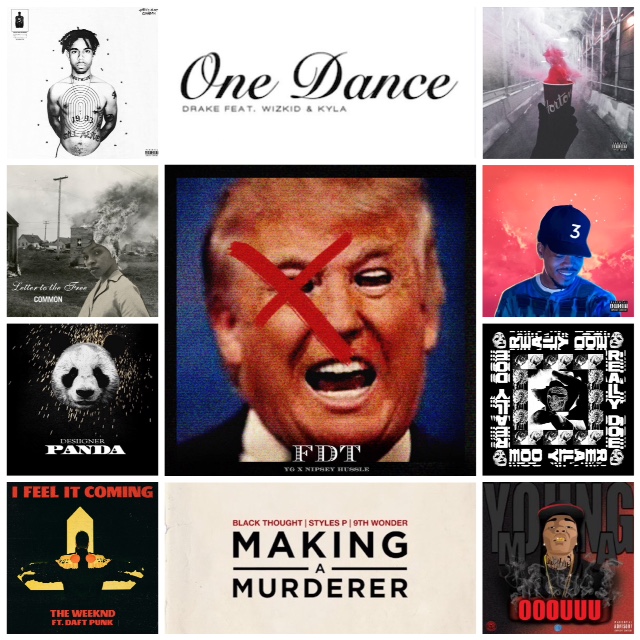 Similarly to how it went down for 2015, this year's list of The Kitchen's favorite songs or singles is pretty much what I picked for my Village Voice Pazz N Jop Music Critics Poll ballot.
Unlike last year though, I didn't really have a true, standout favorite song this year. While I definitely really loved Young M.A's "OOOUUU", if I absolutely had to pick a favorite song, I'd have to go with YG's "FDT" ("F-ck Donald Trump" ICUOENO) featuring Nipsey Hussle instead for what should be obvious reasons.
While we're on the subject of "FDT", the standout music trend for us was the fact that 2016 was a year marked by the very welcome return of great Black protest music inspired, on the plus side, by The Black Lives Matter movement and, on the negative side, by the ongoing state-sanctioned police violence against Black bodies that led to the formation of the BLM movement in the first place and the outrageous, racist, sexist, nativist, xenophobic and Islamophobic presidential campaign conducted by Donald Trump. They say troubled times creates or inspire great art and 2016 certainly proved the point. Songs like Vic Mensa's angry but powerfully moving "16 Shots" or Common's brilliantly eloquent "Letter to the Free" gave me goosebumps or stilled my heart every time I played them. Even Macklemore's contentious "White Privilege II" (that clunky middle section was way too heavy on the self-congratulatory promotion and others have issue with the entire song itself, I do not though) had a part to play in the dialogue. This is one time though that I wish that troubled times-great art adage were not the case. I'll take Black lives saved over Black art protesting those lives lost, any day.
For those who wanna chirp off about why there's no "Broccoli", "Black Beatles", Beyonce etc. on the list, keep in mind this is our favorite singles, not the 'top' or 'best' ones, regardless of how those terms are defined or used. No disrespect to the aforementioned songs, I like them and probably any other 'noteworthy' songs for the year you might throw out for consideration fine, they just weren't our personal faves or, believe it or not, I might have just plain missed them no matter how big a hit they may have been last year. So take that in, stay mad or kick rocks and go check another year-end list elsewhere. Anyway, here go…
FAVORITE SONGS OF 2016:
01. YG – FDT feat. Nipsey Hussle
02. Black Thought – Making A Murderer feat. Styles P
03. Danny Brown – Really Doe feat. Kendrick Lamar, Ab-Soul and Earl Sweatshirt
04. J. Cole – False Prophets
05. Common – Letter to the Free feat. Bilal
06. Desiigner – Panda
07. Drake – One Dance feat. Wizkid & Kyla
08. Vic Mensa – 16 Shots
09. Nas & Erykah Badu – This Bitter Land
10. The Weeknd – I Feel It Coming feat. Daft Punk
11. Young M.A – OOOUUU
Honorable Mentions:
Chance The Rapper – No Problem feat. 2 Chainz & Lil Wayne
Denzel Curry – Knotty Head feat. Rick Ross
Dubb Santora – Money Came feat. 2Cz
Lil Uzi Vert – Do What I Want
Macklemore & Ryan Lewis – White Privilege II
NxWorries (Anderson Paak & Knxwledge) – Lyk Dis
Radiohead – SPECTRE
Tona – Red Eye feat. Fixaveli
Usher – No Limit feat. Young Thug
Yo Gotti – Down in the DM
(note: links in the song titles go to posts on The Kitchen blog about the songs, the artist or the full lengths they are from. Soundcloud playlist above or alternatively, here's a playlist of these songs on TIDAL also.)

Previously on The Kitchen: