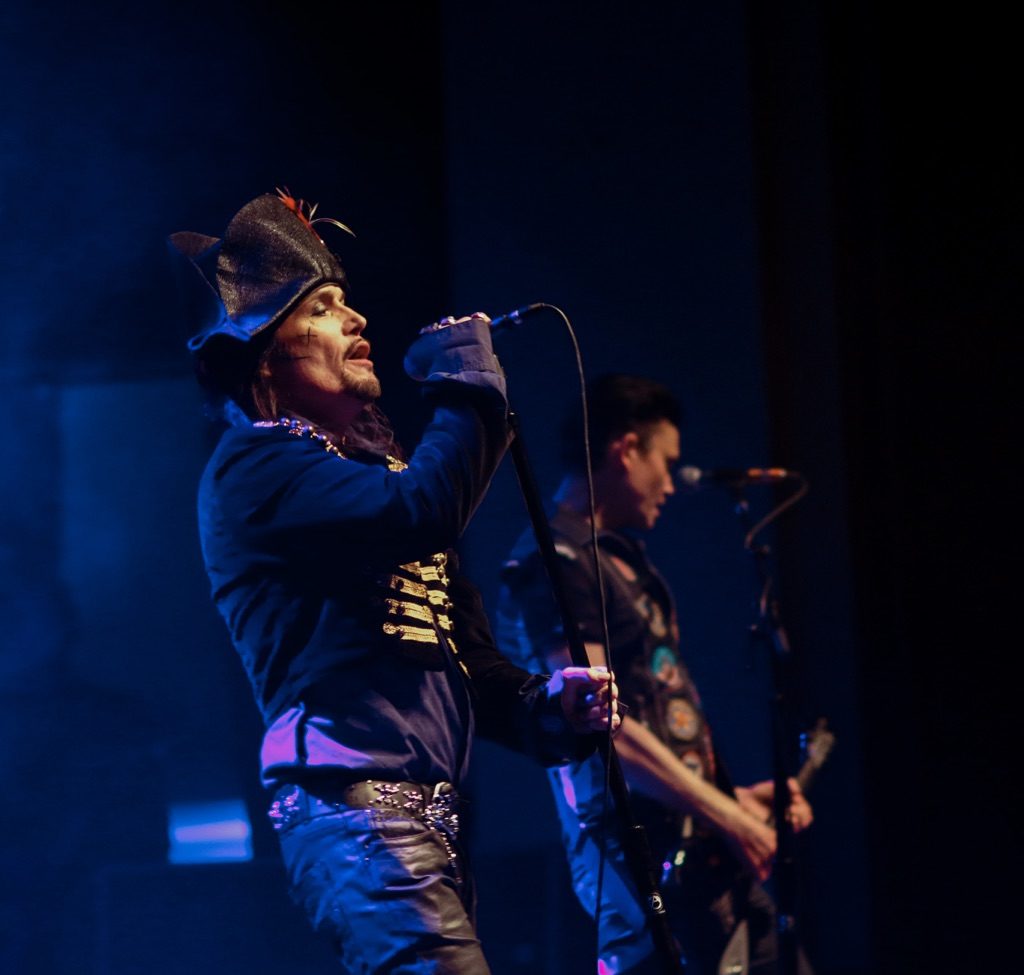 Who: Adam & the Ants
What: Kings of the Wild Frontier tour
When: Jan. 29, 2017
Where: The Danforth Music Hall, Toronto ON
Long-time readers know I was born and grew up, until my very early teenage years, in the UK (we are not the self-described "Trill OG Blog" for nothing!) One of the first music acts I got into back then was Adam & the Ants, a new wave/punk band that drew influences from glam, British musical theatre and history, African Burundi drumming and other elements, some of which might be considered dubious or a tad non-PC in today's era, to create a singular persona and sound that dominated the UK pop charts around the turn of the 80's.
Truth be told though, my sister, staff photog for The Kitchen, and the auteur behind the shot above, was the true fan. We were both excited though when we heard we'd be given an opportunity to go see Adam at the Toronto date in his Kings of the Wild Frontier tour where he was set to play his hit 1980 album the tour was named for in full including some songs that had never been performed live on stage before.
Upon arriving at DMH we learned the show was seated, not my preference as, even though we were there in a professional capacity, we fully intended on jumping around and dancing like loons in anticipation of hearing part of the soundtrack to our youth being recreated live on stage. Openers, Glam Skanks, an all-female, 70s-inspired, 'glitter-rock' band were fine if you are young or uncool enough that you have never heard of The Runaways (an iconic proto punk/glam, female rock band if either of those things apply to you), but what can I say, we were really there for the main attraction.
And luckily, when he finally hit the stage, Adam did not fail to (stand and) deliver! (Well other than I was holding out, hope upon hope, that his legendary band mate and songwriting partner, Marco Pirroni would be in the house on stage too, but alas it was not to be…) Besides that minor quibble though, Adam looked fantastic. He's still rocking his trademark period costuming which, in hindsight, has been an obvious influence on the look for Johnny Depp's Captain Jack Sparrow Pirates of the Caribbean character and he's in amazing shape, maybe even better than during his 80's prime. He didn't move a ton on stage but he also looked far from being a tired old man which some of these punk/new wave era heritage acts on the nostalgia circuit can often come across as. He also didn't do much in the way of in-between song banter (other than in the middle of the show when he poignantly dedicated the performance to his guitarist and musical director, Tom Edwards, who had passed away just a few days before the date in Toronto)
Hearing Kings of the Wild Frontier live in sequence in this setting (still with two drummers, yes!) was amazing. The best songs from the album have lost none of their kick, freshness or urgency and Adam performs them like they're brand new songs and not almost 40 years old. He also blessed fans with a few other musical highlights from his career post-Kings plus a cool cover of T-Rex/Marc Bolan's "Get It On" although sue me if I wanted to hear "Ant Rap" and "Deutscher Girls" too! All in all though, it was a great show and I can't imagine many true fans left at the end of the show unsatisfied.
Set List:
Dog Eat Dog
Antmusic
Feed Me To The Lions
Los Rancheros
Ants Invasion
Killer In The Home
Kings Of The Wild Frontier
The Magnificent Five
Don't Be Square
Jolly Roger
Making History
The Human Beings
Beat My Guest
Christian Dior
Stand And Deliver
Vive Le Rock
Cartrouble
Desperate But Not Serious
Zerox
Never Trust A Man (With Egg On His Face)
Encore:
Lady/fall In
Goody Two Shoes
Prince Charming
Red Scab
Get It On
Physical
Bonus:
Spotify listeners, check out the Kings of the Wild Frontier album below. Tidal listeners, go HERE.